Compliance in the Healthcare Sector: What You Need to Know
Healthcare in the UK is going through seismic shifts, especially in NHS hospitals, trusts and medical centres; currently under pressure to find billions in savings whilst continuing to deliver on government targets.
The private sector is feeling the strain too, with public and private medical practitioners working closely together under more public, patient and press scrutiny than ever before. At the centre of concerns over budgets is the fear that patients won't receive the care they need, particularly in NHS hospitals. Technology offers hundreds of potential solutions for driving through cost savings without compromising patient care standards.
Public and private organisations own hundreds of millions worth of medical technology assets. A patient's safety, comfort and lives can depend on this equipment working effectively, which means medical professionals need to ensure inspections and repairs are conducted according to operational and manufacturers guidelines.
In NHS hospitals, equipment and technology is also set to play a key role in the redesign of care delivery, throughout the 50 Vanguards, under the Five Year Forward View. Asset management is one aspect of care delivery, staff workloads, and service evaluation metrics. Equipment inspections and repairs take valuable time, both in public and private organisations.
Who is Responsible for Medical Equipment Compliance?
The Medicines and Healthcare products Regulatory Agency (MHRA), sponsored by the Department of Health, is responsible for all medical equipment regulation and inspections in the UK. In public organisations, the responsibility for safe medical device management flows from the MHRA down into management and individual teams.
At present, the EU can also influence MHRA guidelines through the Medical Devices Directive, although that may change if the government presses the button on Article 50. Northern Ireland, Scotland and Wales operate through devolved administrations, although there is a close cooperation between the MHRA and those responsible for healthcare risk management. Across the UK, private organisations also need to stay compliant with MHRA guidelines.
The chain of compliance responsibility runs down from Medical Boards to staff and contractors, to ensure everyone involved is trained to use, clean, store, maintain, flag any faults and quarantine for repair as needed. Current guidelines state that "Good record keeping is essential for the safe management of medical devices," with staff responsible for ensuring that records are kept "within one system wherever possible."
The Role of Equipment in Patient Record Keeping
Equipment records also play a secondary, known as an aggregate role, in patient records. There are stringent compliance rules around the creation, storage, use and destruction of patient records, outlined in SO standard, ISO 15489-1:2016, the Data Protection Act 1998 and a dozen other laws and codes that protect patients and medical professionals
Accurate equipment record keeping, from standard inspections to repairs, feed into patient records, especially in an adverse situation or near misses involving patients or staff. Tragically, tired, overworked medical staff can sometimes make mistakes, which is why accurate equipment records are a vital aspect of risk and liability reduction activities.
This is one reason the Chief Medical Officer recommended "the NHS look to high-risk industries for examples of effective safety practices and compare them with its own." Action has been taken since, with best practice from high-risk industries integrated into subsequent NHS IT strategies.
Papertrail was originally designed for high-risk industries, with our risk and compliance software currently being used in operating theatres and other medical departments across the UK. Dozens of pieces of equipment, including anaesthetic machines and defibrillators, require daily inspections. Until recently, doctors, nurses, practitioners and departmental heads were filling these out on paper, taking valuable time and making it difficult for management to get an overview of daily health and safety practices.
Find out more about how Papertrail can make equipment inspections more efficient and accurate. Download our free Healthcare eBook today.
‍
Improve your inspection management system today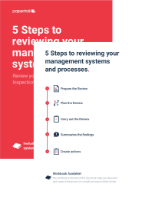 Free! Download the 5 steps to reviewing your management system