EN 15567: 2014 European Ropes Course Standard - What's New?
Tuesday, February 10, 2015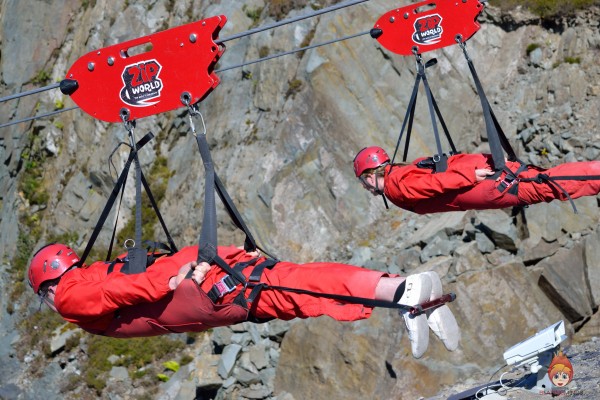 A new and updated version of the European Ropes Course Standard, EN 15567 is due to be published later this year. We've put together a brief overview of the changes to the existing standard – read on to find out more.
Papertrail was lucky enough to be invited to the European Ropes Course Association Annual General (ERCA) Meeting in Munich earlier this month. As well as giving a workshop to attendees on our own web-based safety management system, we were lucky enough to attend a presentation on EN 15567: 2014, given by ERCA President, Nick Moriarty.
Some significant changes are included in the updated standard, which Nick outlined at the meeting. In this article, we'll outline a few of our own key take-outs from the presentation, which should be of interest to ropes course owners and operators in the UK and beyond.
What is EN 15567?
The EN 15567 (the European Ropes Course Standard) sets out the minimum requirements to be met for the installation of new ropes courses, and the operation of both new and existing ropes courses. First published in 2007, the standard has evolved with a review completed in March 2014. The fully revised and updated standard, EN 15567: 2014 is due to be published later this year.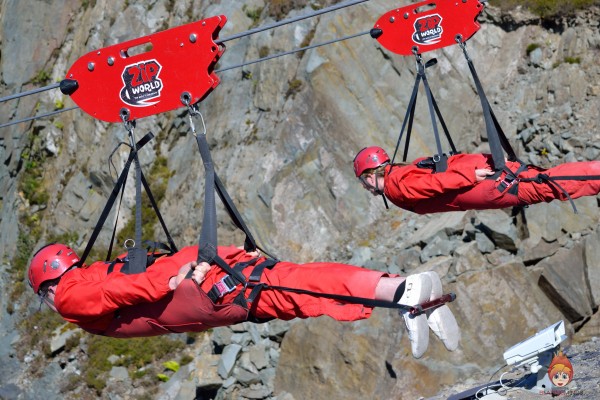 Adventure seekers at ZipWorld – a leading adventure park in North Wales. ZipWorld use Papertrail to manage and inspect all their safety equipment at all their centres. (photo credit: Blazing Minds)
Who will EN 15567: 2014 affect?
The updated European Ropes Course Standard includes a number of changes which will impact adventure park operators, constructors and safety equipment manufacturers across Europe.
Complying with EN standards is not compulsory. It is up to individual ropes course owners whether or not they want to comply. It's definitely worth stating however that EN standards are accepted as normal working practice in any given industry and in the case of an incident, any investigating body will refer to European Standards when conducting their enquiries.
It is also very important to note that the European Standard sets out the bare minimum for the safe design, manufacture, inspection and operation of ropes courses. EN 15567: 2014 should not therefore be interpreted by ropes course owners as an optimum, but as a starting point for the development of a safety system that is unique to their own individual circumstances.
Anyone involved with the design, manufacture, inspection or operation of ropes courses in the UK should also consult the UK Ropes Course Guide – an updated version of which will also be published at the same time as EN 15567: 2014.
Who has been involved in creating the updated standard?
A number of industry experts have come together from over 20 countries across Europe to create the standard. The UK contingent was made up of experts including European Ropes Course Association (ERCA) President, Nick Moriarty, and Steve Woods, Director of leading training provider and ropes course consultancy, Vertex Instructor Training, Jerome Mayhew and Will Galbraith (Go Ape), and Paul Capper (Capstone Inspections).
Changes introduced in EN 15567: 2014 – highlights:
Operation of Ropes Courses
The standard includes a number of changes to the categorisation of safety equipment used to connect participants with ropes course safety systems (including carabiners, inter-locking devices and trolleys), as well as a newly defined set of supervision levels.
The new standard states that when designing the safety system to be used at a ropes course installation and choosing the appropriate equipment, owners should consult a matrix which takes into account the following factors:
The type of safety system used
The level of supervision of participants
The age of participants
The amount of training and supervision they have received
Specific changes relating to safety equipment in EN 15567: 2014
Other important changes in the new standard will include updated requirements for the inspection, testing and identification of specific equipment used at adventure parks, including:
Wire ropes
Ferrule Secured Terminations
Plastic covered wire ropes
Inspection of Personal Protective Equipment (PPE)
The new standard also includes a requirement that all safety equipment is inspected by a competent and qualified PPE instructor at least once a year. As you would expect, ropes course owners will need to be able to evidence that inspections have been carried out and keep accurate records.
As mentioned above, this article is intended to give a summary of some of the key changes in the new standard. It is by no means a complete overview – the new standard is due to be published this summer, together with the updated UK Ropes Course Guide. We hope you find this article useful however in highlighting some of the forthcoming changes.
If you're a ropes course operator and would like to learn more about how our web-based safety management system helps adventure parks comply with legislation, save time and reduce risk.‍
Improve your inspection management system today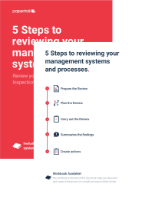 Free! Download the 5 steps to reviewing your management system