Taking Safety Seriously: Vertex Instructor Training and Papertrail
Friday, September 12, 2014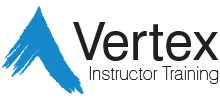 With clients including the Armed Forces, Bourne Leisure, Center Parcs and several local authorities, Vertex Instructor Training is Europe's leading provider of training for the ropes course industry – and the latest organisation to join Papertrail's exclusive group of Certified Trainers and Advisors.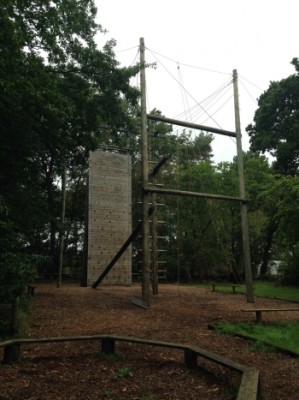 One of the installations at Vertex Instructor Training's facility in Dorset
Papertrail CEO Ben Scholes travelled down to Dorset to meet the Vertex Instructor Training team earlier this month, and completed their training on Papertrail's web-based safety management system. The Vertex team is using Papertrail to manage inspections of all the critical safety equipment at their training centre in Dorset, and as Papertrail Certified Advisors will be assisting with the set-up of new Papertrail accounts for ropes courses in the South of England.
Director Steve Woods and his highly qualified and experienced team have trained thousands of ropes course instructors worldwide since starting Vertex Instructor Training in 2002. Steve was the first ever Director of Training at the European Ropes Course Association (ERCA) and instrumental in developing the training syllabus used by the organisation today. He is currently involved in writing the new European Standards for the ropes course industry as a CEN representative, and regularly works with leading manufacturers of PPE on the design and testing of safety equipment for the ropes course industry.
As well as Steve Woods, Vertex Instructor Training is co-owned and run by Emma Bell and Harry Bell – both professionals with considerable experience in the adventure activities sector. Needless to say, we're thrilled to be continuing our tradition of partnering with the very best in the outdoors industry!
One of the first centres which Vertex will be helping to get started with Papertrail is the Rock Reef Adventure Centre, which the team went to visit with Ben. Vertex are training the team of instructors at this exciting new adventure park development on Bournemouth Pier, and as one of their clients will be helping them get started with Papertrail's web-based safety management system.
This picture shows the zip line which was being tested on the day of the visit, and has since opened for thrill-seeking visitors on the south coast! We're looking forward to working with Vertex Instructor Training and to a long-lasting relationship with all of the team.
Improve your inspection management system today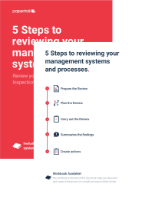 Free! Download the 5 steps to reviewing your management system